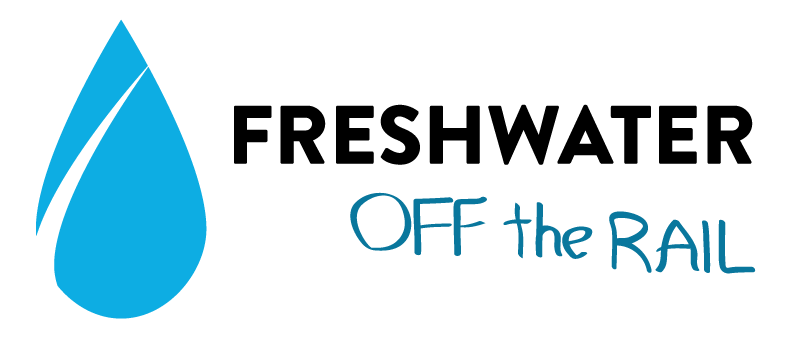 You are now off the rail.
Hi.
You've stumbled on the well-stashed background of Freshwater Railway. The project, not the "transit system". This page is not part of the official Freshwater Railway website. The views and opinions expressed here do not reflect those of Freshwater Railway Corporation, its subsidiaries, its contractors or its partners. OK. Enough of that.
Please read these quick guidelines before continuing:
On this page, I switch to the first person. From a writing standpoint, maintaining a "we" or "they" or "it" perspective would be unnervingly awkward for this material.
I don't know everything. On occasion, I speak or write in a confident tone. No over-reach is intended – I'm well aware that there's always more to learn. I love intelligent debate, I admit when I'm wrong and I am open to constructive criticism.
Nothing on this page is "required reading" to explore the Freshwater Railway project. I have no expectation that anyone will read the whole thing. It's here simply for the curious – and, quite honestly, as a "self-debrief" after spending seven months on this.
My work on this project has generated some stray thoughts and minor epiphanies. I've parked them in this section as a sort of "mini-journal". You are free to read them; you are free to ignore them.
With those things in mind, learn about my motivations and my background.
On this page:
the obvious omission why i did this on the job challenge one resources and credit cousin projects contact
More:
transit and me essay my transit "résumé" community
The Obvious Omission
Freshwater Railway is packed with details – specific locations, exact times, consistent colors and carefully selected typefaces.
What I've deliberately excluded is cost figures. Not because I don't know them or don't understand them. Rather, because I don't want sticker shock to overshadow the positives. That's a game we know too well in Southeast Michigan. The moment "transit" comes up for discussion, we leap immediately to the barriers before we even imagine the benefits.
In a sense, that's understandable. We don't have a frame-of-reference for effective transit. In that climate, brand-name naysayers can pedal all sorts of misinformation: It's a union conspiracy! It will bring crime to your doorstep! It's cheaper to buy everyone a Mercedes! We'd be better off burning money!
The purpose of this project is to portray just the opposite: a living, functioning transit system that does its job well. I am presenting one possible snippet of what decent transit could look like – set in a context that you can relate to.
In advocating any transit improvement, I am interested in changing the way we approach it. Don't give me a zillion-dollar abstract with zero specifics. Don't tell me about the movers and shakers on your board of directors. And definitely don't let the impediments frame the thought process.
Instead, make my mouth water. Show me where transit goes. Inspire me to picture myself using it. Convince me that you yourself are excited about it. Prove to me that you understand the implementation-level details and that you have strategies to execute them. When enough people see transit in this light, the cost question will be much easier to answer.
Why I Did This
1. I love my city
Detroit is a special place. My own memories are too numerous to list – they are overwhelmingly positive stories of good-natured people, fascinating sights and unpretentious authenticity. And really good food. I am aware of what Detroit isn't, but I love it for what it is. We're unlike any other city – that's fantastic. But after a rough journey, we tend to settle for less – it's time to work on that.
I envision a Detroit that aims higher. Not just by making wishlists, but by finding smart, inclusive and practical ways to implement. I hope, one day, to live in a Detroit that embraces its own history, taps its own potential, and values people of all backgrounds.
No one project or one person will make that happen. The answer will not come from city hall, a corporate boardroom or a prestigious coalition of non-profits. A comprehensive, accessible renaissance of Detroit will require the effort of the entire community. Regardless of who's "in charge", real change happens bottom-up, not top-down. We're up to it, no doubt. But we need to be candid about the challenges – it's hard to come up with solutions when it's politically incorrect to acknowledge the problems.
Are we done with elitist, out-of-touch leadership? Have we bulldozed enough landmarks to add more parking spaces? Are scandals, budget crises, crime and shrinkage the only factors that should inform the conversation? We can demand better. We can create better – the next big thing is small things. "Well, it's good enough for Detroit" is not our motto. Raising the bar is less a question of policy – and more a question of sincere motivation and street-level know-how.
Thankfully, we are blessed with abundant talent, passion and work ethic. Combine those qualities with our amazing physical resources, and we have the ingredients to start cooking. It's up to us. We can harness the great things about this city to make this city great.
2. I love transit
You don't understand. I love transit. It's hard to express how much. My heart skips a beat at the sound of a Detroit Diesel 6V92TA engine revving up. I carry a stopwatch to time potential routes. I plan entire vacations around trying new transit systems. (If you dare, read on with this personal essay – compiled while sorting content for this "short" version). Since the bug bit in June 1993, not one day has passed where I haven't thought about trains or buses.
Transit is a large, complex and misunderstood space. In the 18 years that transit has commanded my interest, I have explored many sub-disciplines within it. My freeform, crash-course research has left me with an endless curiosity – and also a deep knowledge of how transit actually works.
In my case, it's not only an interest but also a career. Depending on how you count, I have worked for at least two and as many as five different transit properties. I have also worked for transit industry vendors, giving me a unique window into dozens more systems. My jobs have included driving a bus, training new drivers, drawing route maps, educating community stakeholders, developing marketing strategies, coding websites, taking photographs, streamlining data, creating budgets, reworking transit networks and scheduling transit vehicles. In one instance, I even co-founded a small transit system from the ground up.
What keeps it fun is that these things overlap. Once you're knee-deep in one aspect of transit, you quickly see how other components tie in. And if you care, you'll want those components to interact seamlessly.
Above and beyond that, these things matter. I take an entrepreneurial approach to transit, but it's the human part that really motivates me. This is an asset for everyone. It connects people, it strengthens businesses, it improves communities. It's bigger than profit; it's bigger than "me". The standard frustrations aside, I have cherished my career in transit. I hope to be involved – in a meaningful capacity – for many years to come.
In place of a "résumé", I offer an inventory of transit systems which I have used. View the list – I'm always up to banter about the minutia of these systems.
3. I don't know how else to express this
In my fondness of Detroit and my love for transit, I am certainly not alone. It's inspiring to see so many people share these interests.
What makes me a little different is my experience. I don't just root for Detroit – I live there. I don't just hope for transit – I work toward it in a highly technical capacity.
I'll flesh out the latter of those points. I reiterate, transit is an extremely intricate undertaking – there's way more than meets the eye. Transit has been my career and my passion for years, and I still learn new things every day.
Somehow, this immense complexity is lost on a great many people – even those who genuinely support transit. There is tremendous attention to the beginnings and the ends – politicking for funds at one extreme, visions of fast trains and frequent buses at the other.
But what about the middle? The details of setting that system up. The methods used to deliver the service. The look, feel and identity of those fast trains. Figuring out when to promote that bus route to 15-minute headways. The task of educating the region about its new transit option. The overall shift from D-minus bus lines to A-plus rapid transit. If a question about these matters surfaces, it is usually dismissed with sweeping generalizations.
That baffles me – practically, professionally and personally. I can see the big picture, but I also think in details. It's largely because because I have implemented transit services with my own two hands. Amazingly, that has damaged my credibility. In a conversation about transit, I talk details first, politics second. That approach has found virtually no audience.
Having encountered this reaction for a long time, I turned to the internet. I have mixed feelings about the 'net, but it seemed like a good medium for my widely scattered thoughts on transit. Spinning those thoughts into Freshwater Railway allowed me to air my principles and to exercise my professional skills. If no one sees any of this, at least I had a good time writing trips and cutting blocks. (pardon the jargon...)
The alternative to doing this was not doing this. In that scenario, my frustration would foment. My love of details would go ignored. Intelligent, well-meaning people would continue to drink the kool-aid of subpar leaders – with no other viewpoints in sight. As for the edgier elements of Freshwater Railway, I hope that readers will consider them. They're not politically correct, but political correctness doesn't build transit systems.
On the Job
Looking at this entire project, you may think "this guy seems like a hotheaded rogue – no wonder no one takes him seriously!"
Yes – I have strong opinions. No – I don't smile and nod when things are being done the wrong way. I already admitted that I don't know everything. If I speak up, it's because I want everyone – including myself – to consider all the angles, all the causes and all the effects. Solid implementation only happens when tough questions are on the table, every step of the way.
At all of my jobs, I have specialized in turnkey solutions – penciling in extreme detail before presenting an idea to decisionmakers. Upon introduction, the idea resembles a functioning slice of reality. Want it? Just turn the key.
I have never been fired from a job. Nor have I been demoted, dismissed or asked to resign. At work, I have always had respect for the people around me – exchanging ideas with them is professional experience par excellence. I show up on-time every day, I have a good attitude, I am relentlessly honest and I love interacting with people.
Challenge One
If we transit systems are not providing service that people will use, we better head back to the drawing board. To keep a sharp sense of user perspective, I maintain extensive contact with transit customers – both actual and potential.
I have found that my two greatest interests in transit – service development and marketing – aren't always on the same page. I have witnessed both scenarios: a transit route is attempting too many things at once, and it can't attract customers because it's impossible to explain. Or, a transit route is spot-on, but its best selling points don't make it to the marketing campaign.
In either case, the route will not succeed. The internal battle begins: did it flop because it wasn't designed right? Did we miss the marketable message? Or was it a little of both?
I try mightily to avert those fights from the get-go. How can we configure service so it's inherently easy to understand? If a certain commuter pattern really is that intricate – as many are – can we break it into a separate route? How do we show relationships between routes without overwhelming a novice? Once we have that set, how do we develop marketing that actively features the route itself? We don't want our new, carefully designed service to get lost in a blanket message of "ride the bus".
When scoping transit service, I think like a planner, a scheduler, a graphic designer, a salesman, a road supervisor, a vehicle operator and an end-user – all at once. Erasing the institutional lines between these roles is, for me, Challenge One. When that challenge is surmounted, transit service flourishes.
Resources and Credit
I began this project in November 2010 and finished in July 2011. It consumed, by rough estimates, about 325 hours of my time. I spent $500 out-of-pocket on web hosting, fonts, and a few other elements.
Two other individuals have contributed their talent and their advice to parts of this effort.
Resources for completing this project include the following:
Pen and paper
Acer Aspire 5910 computer
Microsoft Streets & Trips
Microsoft Excel 2010
Text editor
Mozilla Firefox
Adobe Illustrator CS5
Adobe InDesign CS5
Adobe Acrobat 9
The entire website is hand-coded xHTML and CSS. This is, far and away, the best method to achieve clean, controlled and compliant web pages.
It's worth noting that my interest in transit taught me to use all of these resources. If something out there gets you going, follow it. You'll learn tremendously from it.
Also... I must thank my parents, friends, parents' friends, teachers and co-workers for their support. I have been fortunate to spend most of my life around people who have encouraged my bizarre interests.
Cousin Projects
Freshwater Railway is one in a series of large, multi-part projects with which I have been involved. Explore some of the others:
Summer in the City. A non-profit group dedicated to improving the community service experience in Detroit. Every year, Summer in the City connects thousands of volunteers to memorable, meaningful service projects – painting, planting, construction, mentorship. Through a carefully crafted operations model and a fun, flexible format, Summer in the City has made a visible impact in the communities it serves. It has also inspired countless young people to see community service in a positive light. I co-founded Summer in the City in 2002.
MSA airBus. An upstart transit system to connect a major university and an international airport. For heavy travel seasons, airBus coordinates a complex scheme involving as many as 20 buses, 30 employees, and thousands of customers at a time. Implemented by students, airBus is a lesson in planning, financing, marketing and management – not to mention a preferred transportation choice for almost 14 percent of the student body. airBus is a non-profit effort, but it runs with strong business principles and a relentless focus on efficiency. I co-founded airBus in 2002, and remain closely involved with management to this day.
Fake Omaha. A complex project integrating geography, planning, politics, leadership and operational details. Fake Omaha began in 2003, and is my next project on-deck for further development.
I have a long-standing tradition of keeping my name off of "official" materials from my projects. It's a strategy to keep the focus on the topic rather than on the author. For this specific page, using the first-person was a huge departure from the norm.
If you are interested to find out more about this project, you are welcome to contact me at info@fwrail.org. I always reply to genuine enquiries.
Thanks for visiting Freshwater Railway